Live view
The main reason to change from full frame Canon EOS 5D to 1D Mark III was the live view. It makes framing and manual much easier. Also simulated exposure is great on some situations, however I have switched it off since I find 1D Mark III exposure metering (evaluative) so good that I don't see no need for simulating exposure on screen. On rare cases when I get bad exposure I adjust and re-shoot, simple.

Live view makes it easier to manage composition, depth of field and background "clutter" - at least for me. On handling point of view live makes it much easier to shoot from very low or very high angle. I haven't yet tried but I would imagine that very different angle could be used in photos by putting 1Ds Mark III + light lens to monopod and use external display (e.g. portable DVD-player) via the composite cable for framing while raising camera to 3.5 meters with the monopod.

Using Live View and mirror lock-up
There is one negative thing in how live view is done in 1D(s) Mark III cameras; the live view functionality doesn't work as well as it does on 40D. The sensor of 1D Mark III requires shutter to be used in order to reset the sensor before taking the photo. And shutter closing causes vibration, not as big as the mirror but still considerable amount. More detailed information from Juza Nature Photography forums:

When you are using live view and you press the shutter release, the camera must "reset" the sensor.

With 1D or 1Ds, to "reset" the sensor the camera
A) closes the shutter curtain
1) opens the shutter curtain
2) when the exposure is complete, it closes the shutter curtain
3) it opens again the curtain to come back to live view

the step A is very strong, and it is enough to create vibrations

If you activate MLU, instead:

1) first, you have to exit from live view, otherwise MLU does not work
2) when you press the shutter release for the first time, the camera lock the mirror
3) when you press again the shutter, the opens the shutter curtain
4) when the exposure is complete, it closes the shutter curtain

so you eliminate the step A, and you don't have vibrations

My routine for taking photos with live view: 1] Get camera and lens from camerabag, attach to tripod
2] Switch on live view; compose and focus
3] Switch live view off; use either the 2 second self timer or remote switch Canon RS-80N for vibration free picture
Not the fasters way of doing it but I can be sure that there ain't vibration in photos - Earlier in my life I have ruined few masterpieces due to vibration from mirror and with 10Mpix camera one has to be much more careful than with old film days.
Autofocus point selection
Autofocus point is selected by pressing autofocus selection and then using the index finger wheel (horizontal selection) and thumb wheel (goes rounds in selected horizontal region). After using D30, 20D and 40D this was obvious usability downgrade - thank god I don't use autofocus that often.

Also only 19 of the focus points are selectable, others cannot be selected, but when camera is on automatic focus point selection mode camera can select those. There are few situations when I have found this to be limitation. As an example taking tight portraits this can be problem since Canon has disabled those focus points which I would most probably position to eye of the subject of portrait. Due to this continuos focus and re-compose action is needed and that will cause focus errors if you use Canon EF85mm f/1.2 USM Mark II wide open on close distances.
Handling handheld
For me the vertical grip was a new experience, I have never bothered to purchase vertical grip to my earlier cameras. The vertical grip makes naturally taking vertical photos easier. However if you use quick release plate or L-bracket it feels little strange when holding camera vertically, but still quite OK. If I ever have to photograph wedding, or similar event where I have to lot of handheld photographing, I will definitely remove the L-bracket.

Weight gives additional stability but also will be quite burden if you carry camera all the time in your neck or in hand. At least I get quite soon tired holding Canon EF85mm f/1.2 L USM Mark II or Canon EF180mm f/3.5 L USM, which both weight over 1kg. But also good point is that with these heavy lenses is that camera+lens combination is less nose heavy and makes carryin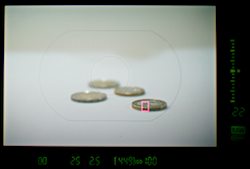 a little bit easier. I would advice to not use the Canon neck strap and instead get some wider and properly padded neck strap, for example one from OP/TECH USA.

Naturally on handheld photography you cannot use live view, at least I don't find it usable, except on rare cases I need to take photo either from very high viewpoint or very low viewpoint. However the viewfinder is great and with optional focusing screen Ec-S even manual focusing is pretty good, not as good as with the 5D but quite close.
Handling on tripod
On tripod camera does seem to have higher center of gravity compared to same lenses on 5D/40D. Due to placement of battery and connections (USB, remote switch etc.) camera specific L-bracket is required (at least Kirk and Really Right Stuff are manufacturing those). However be prepared for the extra $200 expense due to this if you need L-bracket.
Shooting tethered
Canon's new live view cameras allow photographer to view the image from sensor on the computer screen. I have tried this functionality and it seems quite useful for "studio shooting". However if you shoot anything which is moving it's quite useless functionality. Of course this functionality can be used with nature photography but you have to bring laptop to outdoors and use some extension to USB-cable or buy the ridiculous expensive WFT-E2 wireless transmitter. Also 1D Mark III package included AC-adapter, ACK-E4, which is included and not optional accessory like with the non-professional Canon's.
Top and rear LCD displays
For a former consumer DSLR user the rear LCD display was completely new concept, however I learned very soon to like it. Only complaint is that EV-scale is not visible on top LCD on M-mode, and therefore user must turn on live view or look through viewfinder to utilize information from auto exposure metering system. This may sound "so what"-issue but I take most of my photos using tripod and compose, then I typically have adjusted the aperture and shutter speed by using the top LCD of Canon EOS 5D.
Shooting with gloves
At winter when it's freezing temperature outside you cannot be there without cloves. Therefore it has to be possible to shoot without removing gloves. With 1D Mark III it's quite easy to use basic functions with gloves.
Battery life
The non-professional cameras from Canon use BP-511 or similar battery which is 7.4V / 1390mAh (10.28Wh). The battery life has not been issue for years (20D has excellent battery life), but since introduction of Live View the small battery has become a slight problem. I have been out few times with 40D now and chilling temperatures combines with Live View usage has shortened the battery life to very poor, only 50-75 shots/battery. Indoors it has been slightly better but not much. However in 1D Mark III has battery which is rated 11.1V / 2300mAh (25.53Wh) and the battery life seems much better when using live view.