Canon EF85 f/1.8 USM
85 f/1.8 is my "135mm equivalent lens". It's excellent in nature photography as well as photographing landscapes. In 35mm system 135mm tele can be concidered first tele lens which clearly starts to show the perspective can be concidered as a compressed. Excellent focal length for headshots.

85 f/1.8 is quite sharp lens even wide open. Colors and contrast will improve by closing aperture to f/2.2, but from there I don't see much difference. Bokeh is quite good on this lens and due to big maximum aperture there is plenty of it (bokeh).

Build quality is similar as in Canon EF 100 f/2.8 USM micro. Lens feels as good as L-lenses. This lens has USM for focusing and therefore FTM (full time manual focusing) can be used all the time. There is switch for AF/MF, but it's not needed due to FTM. Hood is not included like in L-lenses. Hood fits to lens very well and is easy to attach to the lens and de-attache from the lens.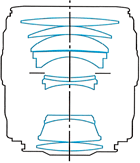 Lens hood is not "bajonet"-type of like in 100/2.8 and in my L-lenses, instead it has two small buttons which has to be pressed in order to attach/de-attach the hood from lens. Due to small length of the lens I keep the hood attached in to the lens all time.

85 f/1.8 has 9 lenses in 7 groups. No special lens elements used in this lens. Lens weight 4250g. Dimensions without hood, with lens caps 95mm x 75mm. With the hood dimensions are 88mm x 136mm. Minimum focus distance is 85cm. There are 8 aperture blades and aperture does seem to be circular. Filter size is 58mm. Autofocus is USM.

With 20D this lens seems to be very good pair with Sigma F1.4 EX DC HSM. I can cover most of the situations in nature with this combination. I have concidered purchasing Canon EF 85 f/1.2 L USM lens, but the price is quite high. When I get fullframe camera I'm sure I have use for this lens even I would purchase 85 f/1.2, due to the fast focusing of this lens.

Summary
Pros:
+ Usable wide open and Very sharp at f/2.2 and smaller apertures
+ Contrast and colors quite good
+ Bokeh is exellent
+ Autofocus is very fast
+ Excellent build quality

Cons:
- Lens hood is not included

See photos in my picturebank taken with this lens.